Kharkiv City Tour "Explorer"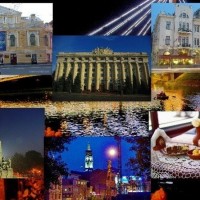 This tour is for those who want to explore beautiful Kharkiv or see it from a different angle.
Short description of the Tour: 
This is a 5-6 hours walk. Here is a short description of the walk but it doesnt contain all the places you will see:
23 August Street - Lenin Avenue - Sarzhin Yar - The Stream - Dynamo Stadium- Gorky Park - Sums'ka street - Wedding Palace - Freedom Square - Rymars'ka Street- Teatralna Square - Hoholya Street - Constitution Square - Rozy Luxemburg square - Kharkiv Embankment - Birdge of Love - Kharkiv Circus. 
Kharkiv Virtual City Tour built using Google Tour Builder
Please visit Kharkiv Virtual City Tour to see the tour with Google Tour Builder. 
The Tour
Our suggested walk starts from 23 August square on Pavlovo Pole but you can choose any starting point based on your current location. This square is a popular place where locals enjoy having their evening walks. The square stretches from "Dovzhenko" cinema to the Monument to the Soldier. 

 On August 23, 1943 Kharkov was liberated from the Nazi invaders. In 1959, on the site of the street battles appeared August 23 street. And in 1981 Monument to the Soldier has been erected.
When you come to Lenin avenue, turn left and go up to 'Botanichny Sad" (Botanical Garden) metro station.
Lenin Avenue is one of major Kharkiv streets. It stretches from Freedom Square to Derev'yanko Street (where the largest Urban park 'Lesopark' starts).

When you reach metro 'Botanichny Sad" you can continue to walk along Lenin Avenue to the Freedom Square. However, we suggest you to take a more enjoyable scenic route through Sarzhin Yar along The Stream.

Go up Lenin Avenue, pass by the ravine (which is in fact Sarzhin Yar); then turn left and go downstairs to the garden.
There are always people at The Stream regardless of weather, temperature, time of day and time of year. Temperature of water is around 9 degrees Celsius, but people are swimming all the year round. Water from the stream is very clean, you will find plenty of people with plastic bottles drawing water home. Sarzhin Yar itself is a so called boundary between two regions of the city, Pavlovo Pole and central, Nagorniy, region.
After having a small refreshing break at the stream and maybe a glass of fresh carrot juice from a small shop in the form of orange, go upstairs to the God of Mother Church.

You will find yourself in Shatilovka. Shatilovka is the part of the city with most expensive and most desired land. If you walk around, you will see beautiful houses of successful Kharkovians  (you've got to be successful to afford a house here ;)). 
On Mins'ka street turn left,  go down the street and turn right on Borodina street. When you reach Novgorods'ka street, turn left and go straight to Gorky Park. You will see the Stadium 'Dynamo' from the left.
At the first entrance  to the park better go left along the road, from the left you will see Stadium 'Dynamo',  



then hotel 'Dynamo' and abandoned restaurant 'Dynamo' .
When you reach the main entrance of Gorky Park, you have a chance to try one of the best pizzas in the city in pizzeria "Maranella Kazan" .

If you are not hungry yet, enjoy Kharkiv Disneyland - Gorky Park!

Then, go to Sums'ka street and head the center (to the right). Sums'ka itself is a beautiful street, where almost every house is an architectural monument.
One of most notable houses is Kharkiv Wedding Palace on Sums'ka 61 which has been renovated in Summer 2013 and painted in turquoise. When you reach metro Universitet, pay attention to the station. It is called "Steklyashka" (not officially) because of the walls made of glass ("steklo" means "glass"). Steklyashka is one of most popular meeting points of kharkovians.
Kharkiv Wedding Palace                                                     Kharkiv Wedding Palace                                                   "Steklyashka"


 
A bit of effort and you reach main square of the city, Svobody (Freedom) square.
This is one of the biggest squares in Europe. The square is surrounded by Kharkiv City Council from Sums'ka street side, Shevchenko Garden from the left, Kharkiv National University, Gosprom (Derzhprom), and first and the only 5 star hotel Kharkiv Palace Premier Hotel and, finally, Lenin monument.When you check all the Svobody (Freedom) Square landmarks, we recommend you to go back to Sums'ka street and walk up the street.
Shevchenko Garden contains many gems, but we will get to the them from another side. A bit further you will see Soccer Ball Monument, signed by the main football coach of Ukraine Oleg Blokhin. 
Kharkiv City Council                                                          Soccer Ball Monument


When you reach  Monument to T.G. Shevchenko you can finally go inside the garden :)
Monument to T.G.Shevchenko                                           Shevchenko Garden


 Among mentioned before 'gems', there is Alley of stars of the cinema festival "Kharkiv Lilac". Hidden in bushes monument to stone..what you would think when seen it from behind. In fact, this is Monument to Repressed Kobza Players ('kobza' is a ukrainian national musical instrument).
Alley of stars of the cinema festival "Kharkiv Lilac"              Monument to Repressed Kobza Players       


In the heart of Shevchenko Garden there is a famous kids cafe "Crystal". It seems, it has been here for ever!  You may want to try their legendary ice-cream "Belochka" ("squirrel"). At the end of main alley there is the only dolphinarium in Kharkiv - dolphinarium "Nemo".
"Crystal"                                                                        Dolphinarium "Nemo"


And then, fountain Kaskad. This is a very romantic place, especially in summer when the fountain is functioning.


Then, go back to Sums'ka street to see Kharkiv Theater of Opera and Ballet and The Mirror Stream in front of it.

Cross Sumskaya and go right to Rymars'ka  street (to the left from Kharkiv Opera and Ballet Theater). Rymars'ka is fantastic! So many little yards and beautiful old buildings.
Kharkov Philharmonic Hall


Hotel "Gostiny Dvor" and a nice old house next to it:


Hotel "Yellowunlimited" and a nice house in the yard:


On Grabovskiy street turn left and get back to Sums'ka street. You will find Shevchenko Theater to the right and Teatral'na Square in front of it. To the left from Teatral'na Alley there is the building of the State Bank.
Teatral'na Square                                                             The building of the State Bank                                        Shevchenko Theater

From Teatral'na Alley turn a bit to the left to have a look at the shortest street in Kharkiv - Gogol Street.One of most popular and the best hotels of Kharkiv "Chichikov" is located on this street. Behind the hotel there is a big Catholic Cathedral of the Assumption of the Blessed Virgin Mary.



When you go up Sumskaya street and reach Constitution Square, you will see another popular meeting point "Gradusnik" ('thermometer')  from the right side. If you want to see the biggest synagogue in Ukraine and second in Europe (after the one in Budapest) Kharkiv Choral Synagogue, turn here to the left and go to Pushkins'ka street.
"Gradusnik"                                                                      Kharkiv Choral Synagogue


From Pushkins'ka street you will need to walk up the street and get back to Constitution Square.
Here you will see:
Mysterious "Fiddler on the Roof"                                           The House of Science and Technology


 Monument of Independence "Nika"


Holy Protection Monastery of Kharkiv


From Constitution Square go to Radans'ky lane. You will have a view on Cathedral of Annunciation and Assumption Cathedral
 Cathedral of Annunciation                                                   Assumption Cathedral

Coffee time!  At the crossroads of Radans'ky lane and Kvitka-Osnov'yanenko street there is a popular cafe 'Lviv Chocolate Factory'. Its almost always full of people but you can take something 'to go'.


If you want to take a sit and relax, I would recommend 'Petit Paris' cafe which is located to the left of Lviv Chocolate Factory. Petit Paris has the best cheesecakes in the city :)


A bit down  Kvitka-Osnov'yanenko street  there is one more popular place - restaurant 'Sharikoff'  (if you are ready for a full meal). From Kvitka-Osnov'yanenko street head Rozy Luxemburg Square:


And then to Kharkov embankment to the right. Here starts park "Strelka" (Arrow). It is called like this because of the corner made by two rivers. In summer you could even take a boat here. When getting to the park, go inside and turn left.  


Bridge of Love

When you cross the bridge, turn left and go along the embankment. You will see Kharkiv Circus to the right.


When reaching the first bridge, cross it and go straight to the center.